Donation of equipment by the Adam Stansfield Foundation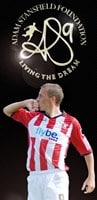 A big thank you to the Adam Stansfield Foundation who have donated a lot of football equipment.
This is a fantastic charity who are raising awareness of bowel cancer in the quest to save lives in the UK and beyond. They aim to also promote community participation in healthy recreation for the benefit of children and young people up to the age of 16 residing in Devon, Herefordshire and Somerset by the provision of grants and facilities for playing football.
http://www.adamstansfieldfoundation.com/